My Personal and Professional Experience
Born in Kitwe in Zambia, I grew up in Belfast during the Troubles before going to Scotland to study History, but it was at Trinity that I found my home. After completing my PhD in History under the inspiring supervision of the late Professor Aidan Clarke, I taught at the University of California at Santa Barbara, at Yale, and at the University of Aberdeen. In 2003 I returned to Trinity as the Erasmus Smith's Professor of History (1762), following in Aidan's footsteps.
Over the past two decades I have served our community as teacher, scholar, supervisor, mentor, Head of Department, Head of School, founding Vice President for Global Relations, and Director at the Trinity Long Room Hub Arts and Humanities Research Institute. It is this wide and varied experience that I will bring to the role of Provost.
Whether in small groups or the lecture theatre, I am a passionate teacher.I also have extensive experience of supervising doctoral students and mentoring postdoctoral fellows in History and across the Arts and Humanities. For me it is about using different pedagogies to inspire student learning, while never being afraid to innovate or make mistakes. Our students and early career researchers are the life blood of our disciplines and indeed a primary strength of our University. Whether at undergraduate or postgraduate level, a Trinity education transforms people's lives. Recognising, inspiring, and nurturing students' potential is and always has been a defining hallmark of our University. Moreover, in recent years, attention to inclusion and diversity is strengthening and enhancing our academic community.
As Provost I will introduce new initiatives to further enrich and diversify our community and our approaches to learning, teaching, and assessment. Exploring and embracing improvements in technology will be a key resource as we move forward and reshape how teaching, research and administration are conducted. We also need to remember that structures and technology only take us so far and that teaching is a human activity. It's the substance and quality of education that matters. We need to privilege small group activity and trust our academics to be research-led educators.This is what is so special about the Trinity education experience.
As Head of the Department of History and then of the School of Histories and Humanities I saw, first-hand, the importance of the tutor system, how much it helps students facing difficulties, and why it is an integral part of what makes Trinity such a unique place of learning. As Provost, I will make sure that the student voice is never ignored or that students feel that they are treated as a source of income in some commercial enterprise. Education is at the heart of what we do and every year students inspire us with their enthusiasm and ideas. We repay that contribution and that faith by delivering a world-class education that is a passport to future success.
Flexibility, resilience, and persistence remain features of our working lives, and are central to practices at work. Raising two sons, like many others I worried and struggled at times to manage my work-life balance.It was never easy. I know first-hand the pressures caring responsibilities can put on people. I understand fears that it may impact on promotion and career prospects. This is something we must get right.
I welcome how the Athena Swan process has brought to the surface these issues and others around inequality, discrimination, bullying, and workloads. Discussions around race and racial awareness and disability are very much to the fore. The pandemic has also underscored the importance of having a working environment that is flexible and prioritises well-being and health for everyone.
As Chair of the Irish Research Council I have been at the forefront of putting in place a gender strategy and we are currently developing a bullying and harassment policy, which is as relevant in a Trinity context as the gender strategy. Real action is needed to address these structural and cultural issues, how we communicate about them within College, and how we forge new practices.
As Provost I will initiate an overarching review of Trinity's work practices in line with its academic mission, national and international policies, and best practices in the Higher Education environment. I am committed to the creation of an agile, supportive and constructive work environment for the betterment of our students and staff. I will ensure that Trinity is a university that promotes dignity and respect in the workplace and celebrates openness, fairness, diversity, inclusivity, and equality.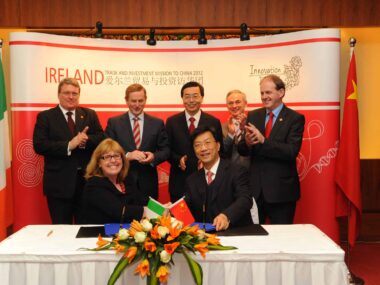 Professor Jane Ohlmeyer on a trade visit to China in 2012 as Trinity's inaugural Vice President for Global Relations
Over the past two decades I have been an effective leader and influential ambassador for Trinity and Ireland. As founding Head of the School of Histories and Humanities (2005–08) I was responsible for bringing together several distinctive disciplines, for fostering principles of openness and trust, for developing shared academic programmes, and for attracting significant EU, national and philanthropic funding to the School.
As the founding Vice President for Global Relations (2011–14) I devised Trinity's first 'Global Relations Strategy' and developed the business plan that underpinned it. In this role I transformed how we approach international engagement and recruitment across all disciplines.I then hired and led a high-performing team that delivered the strategy in Dublin, set up our offices in New York, New Delhi and Shanghai, and supported the establishment of a niche campus in Singapore. Working closely with colleagues in every Faculty, School, and Department afforded me important insights into how decisions are made and implemented at all levels in Trinity, as well as on the national and international stages. As Vice President for Global Relations, I also developed excellent working relationships with researchers in some of the most prestigious universities across the world, with the leaders of enterprise, with policymakers and the heads of cultural organisations, with colleagues in the Department of Foreign Affairs and in agencies that work for Ireland abroad, and with Trinity alumni and friends, whom I reached out to wherever I travelled.
"The depth and quality of these relationships bring a particular strength to the role of Provost and serve as an invaluable asset in a highly competitive and globalised Higher Education sector."
As Director of the Trinity Long Room Hub, I took great pleasure in providing strategic leadership and profile-building. I introduced innovative research, fellowship, and public engagement programmes as well as pioneering initiatives around interdisciplinarity, impact, and 13 policies that are being taken up at College and at European level. The Hub is recognised as a world-class reference point as it enters its second decade. Working with an incredible and highly motivated team, I sought to secure the Hub's future financial sustainability through philanthropic fundraising and securing EU-grants. I am a recognised advocate for the importance of the Arts and Humanities and interdisciplinarity – in areas such as the medical humanities and neurohumanities – both nationally and on the world stage.
Since September 2015, I have served as Chair of the Irish Research Council, a body that awards basic frontier research funding on the basis of excellence across 100 academic disciplines, from archaeology to zoology. Currently the Irish Research Council funds c.1,400 early career researchers and advises government on a range of research-related policy issues. As Chair, I have advocated for the creation of a more balanced research ecosystem in Ireland and for additional funding for basic frontier research for the past five years. The launch of the Laureate Awards represents a critical departure in achieving this, as do successful efforts to secure a living stipend/salary for our early career researchers. The Irish Research Council has been actively working with government and other funders across Ireland and the UK to devise a Brexit strategy that looks North-South as well as West-East while mitigating risks and maximising opportunities.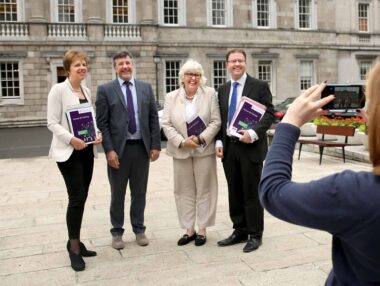 Professor Jane Ohlmeyer outside Dáil Éireann as Chair of the Irish Research Council with Senator Ivana Bacik, Peter Brown and Deputy James Lawless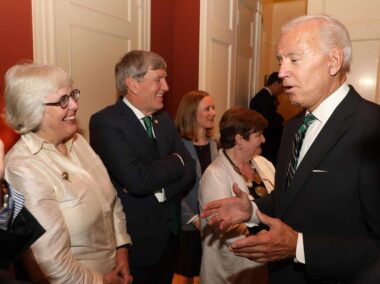 Professor Jane Ohlmeyer with President Joe Biden at the US launch of The Cambridge History of Ireland in 2018, at the home of Ambassador Mulhall in Washington DC
We are now working with the new Department of Higher and Further Education, Research, Innovation and Science and other bodies, especially the Royal Irish Academy, to ensure that research informs public policy. Much of this derives from initiatives that I led as Director of the Trinity Long Room Hub. I continue to work closely with the Hub to ensure that Trinity is an integral component of any national conversation around research for public policy. Finally, the Irish Research Council strives to communicate why basic frontier research matters – as with the #LoveIrishResearch campaign – and to convince government ministers, TDs, MEPs, and other influencers about the importance of investing in basic frontier research as a national priority.
As Provost I will also be fearless in lobbying for increased resources for research and education and tireless in telling the stories that illustrate why research and education matter. Now more than ever, we must work closely with others and, where appropriate, speak with one voice. Having an appreciation of the quality of research in all disciplines across the entire country, I will work to enhance co-operation and collaboration with other Higher Education Institutions, cultural and civic organizations, government departments, and industry.
Thanks to these and other leadership roles that I have held at a European level (as a member of advisory and scientific boards and as the national delegate to bodies like the European Strategy Forum for Research Infrastructures) I know how to align strategic objectives with wider opportunities. I understand how to effectively lobby and network with leading researchers, heads of cultural institutions, key figures in the European Commission, leaders of industry and enterprise, politicians, national policy makers, and funders. I have interacted with distinguished researchers across all disciplines and career stages and truly appreciate the diversity of funding and academic priorities and needs.
As your Provost I will be the public face of Trinity, representing a great university on the Irish and world stages. I have developed an exceptionally strong external profile and a national and global network of contacts on which I will draw as Provost. This track-record in forming relationships and working with a wide range of high-level individuals at home and abroad also means that I have extensive experience as an effective negotiator and as a trusted ambassador.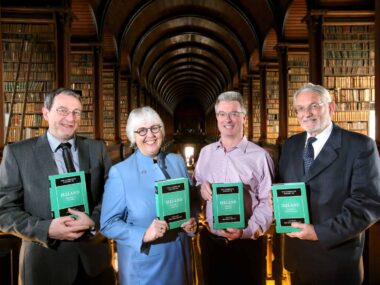 Professor Jane Ohlmeyer at Trinity's Long Room in the Old Library with the other editors ofThe Cambridge History of Ireland, Professor James Kelly, Professor Brendan Smith and Professor Thomas Bartlett
My academic credentials are those of an historian of international standing. I am an expert on the history of Ireland and empire in the early modern period.I am the author or editor of numerous articles and 13 books, including editing Volume 2 of The Cambridge History of Ireland (2018), which was launched by the President of Ireland Michael D.Higgins in Dublin, and by Joe Biden, now President Biden, in the United States. My most recent book is an edition of Edward Hyde, Earl of Clarendon's A Short View of the State and Condition of the Kingdom of Ireland (Oxford, 2020). I am currently working on a book on 'Ireland, Empire and the Early Modern World' which I will give as the 2021 Ford Lectures in Oxford. I will be the eleventh woman (and first from Ireland) to deliver these lectures since their establishment in 1896 and the first historian based in an Irish university since Professor F.S.L Lyons in 1978 (when Provost). Due to the COVID-19 pandemic the Ford Lectures will, for the first time, be delivered online, allowing me to reach much wider audiences in the UK, Ireland, and around the world.
To date I have also been the PI or co-PI for 25 research and research infrastructure projects, with awards totalling c.€22 million, a very considerable figure for the Arts and Humanities where funding for research is scarce. This includes €3 million from philanthropy, along with awards from a wide variety of international (Horizon 2020, Volkswagen Foundation, Mellon Foundation and the Leverhulme Trust) and national funders. It also includes the €10.8 million PRTLI funding for the establishment of the Trinity Long Room Hub, our research institute in the Arts and Humanities.
One of the most exciting initiatives that I have led is the 1641 Depositions project, an inter-institutional and inter-disciplinary collaboration involving over 50 researchers and IBM. We published online and in print the testimonies (or depositions) of over 8,000 people who bore witness to the bloody and sectarian conflict that gripped Ireland during the 1640s. A decade on we are well placed to evaluate the extremely positive impact that the 1641 Depositions project has had on education, research, and the on-going peace process in Northern Ireland. It also serves as a template for future activities as we continue to unlock the treasures of our collections as part of the Inspiring Generations campaign.
The 1641 Depositions project fired my passion for digital humanities and inter- and trans-disciplinarity and has provided the impetus for a number of related projects. Most recently (2020), as Director of the Trinity Long Room Hub, I secured a prestigious Marie Skłodowska-Curie Actions Co-fund, called Human+, in partnership with the ADAPT Centre (the SFI Research Centre for Digital Media Technology hosted by Trinity College Dublin) and a wide variety of enterprise partners. This application was ranked second in Europe. Human+ is about placing the human experience at the heart of technical innovation for the long-term benefit of society and will allow us to appoint 18 postdoctoral fellows working across the arts, humanities, computer sciences and engineering (2021–25). My wider interest in inter- and trans-disciplinarity is reflected in another EU-funded project that I also lead, called SHAPE-ID, which addresses the challenge of improving collaboration between the Arts, Humanities and Social Sciences and other Sciences, especially 17 in the context of societal challenges and European research policy and funding programmes.
I have spearheaded the development of Arts and Humanities approaches to democracy research, collaborating with a number of international partners, including Columbia University in New York, JNU in New Delhi, and University of São Paulo in Brazil. In 2020 we launched a free online Democracy Curriculum. I have been working with Trinity College Institute of Neuroscience to develop neurohumanities expertise within Trinity as part of a Wellcome Trust ISSF award. In addition to writing about the value of inter- and trans-disciplinarity and digital humanities, I regularly contribute to more general discussions that relate to the importance of the Arts and Humanities and educational policy.I have commented on the barriers facing women in the university sector, on world rankings and metrics, and Brexit.
As a community of educators and researchers, we in Trinity are ideally placed to take cross disciplinary collaborations to new levels.I am confident we can make a particular contribution to climate action, biodiversity and sustainability and approach this with the same focus and energy we have dedicated to addressing COVID-19.