"Under my Provostship, the College will actively engage with technology to leverage the positives and thereby enhance research and education."
The Fabric of Trinity: Unlocking Our Potential
1. Investing in Our Campus
Strengthen links with the wider Dublin community.

Establish a 'Creative Incubator', bringing together academics, industry, and the community to develop new processes, practices, and products.
Invest in College IT and online teaching facilities.

Invest in research collections.

Repurpose and refurbish our older buildings.

Promote sustainable development.
We need a long-term perspective for the University which maximises our unique locations, leverages our excellence, and positions Trinity as the pulse of creativity and innovation at the centre of Ireland's capital city.
We are very much part of the wider community and we are proud of the links we have with Dublin. We now need to strengthen these connections and build new bridges across the city. We need to take full advantage of our historic campus, our teaching hospitals – St James's, Tallaght, the Coombe, and the Dental School and Hospital – our halls of residence around the city, our playing fields and library storage facilities at Santry, and our Iveagh Grounds sports facility in Crumlin. The Department of Public Health and Primary Care at Tallaght provides a particularly significant interface between the community, the hospital, and the College. Equally exciting are the ambitious plans for the new Children's Hospital and Cancer Institute, which will come to fruition over the course of the next decade.
Our city centre campus is iconic, and normally bustles with activity and energy. Evening courses, Continuing Professional Development initiatives, Science Gallery exhibitions, Trinity Long Room Hub events and high-profile initiatives, like Culture Night and European Researchers' Night, bring thousands of members of the public into College, some for the first time. When the pandemic passes, we will again make a virtue of our status as a tourist attraction and the fact that the Book of Kells – soon to be housed in an exciting new visitor centre – and the Long Room attract (pre-pandemic) nearly one million paying visitors a year.
During my Provostship, I will establish a 'creative incubator' to bring together the university, industry, and the community. In this space, we will develop new processes, practices, and products that stem from and interact with the creative arts. The 'creative incubator' will build upon the strengths of our core Arts and Sciences disciplines and the richness of our art and research collections and draw upon the cluster of cultural institutions and the range of existing and emerging creative industries concentrated nearby. It will also help to transform Ireland's position as a vital, dynamic beacon of creativity in Europe and the world. One that combines the best of online digital learning with vibrant campuses.
A range of other important developments are underway. The new student accommodation and student welfare centre will provide much-needed resources. The Martin Naughton E3 Foundry will showcase our strengths in engineering, environment, and emerging technologies. It will allow us to be innovators in education and research, with a potential to be transformative on a global scale. The renewal of the Long Room and the creation of a new reading room affords us with an opportunity to conserve and provide greater access to our unique and historic collections.But we also need to think of future generations of researchers. As Provost, I will invest in collections in the Library and elsewhere in the College.
Other developments are currently under discussion, including the 'Trinity East' development of our 5.5-acre site on Grand Canal Dock. I welcome the ambition but believe that we need to proceed with caution. We must be fully aware of the associated risks – financial, governance, conceptual, leadership, and bandwidth – as well as the very real and exciting opportunities. It is essential that we continue to repurpose and refurbish our older buildings; renew classrooms that are small and poorly ventilated, and furnish our facilities and laboratories with state-of-the-art technology, equipment, and research infrastructure. Sustainability will be at the forefront of my thinking as Provost.
Technology provides enormous opportunities to overcome the obstacle of distance across our campuses in the city centre and at the teaching hospitals, across Ireland and globally. We need to invest in College IT and online teaching and support facilities. We should, of course, have state-of-the-art online teaching and library facilities. We need to digitise our unique and historic collections so that our students and our academics can engage actively with students, teachers, and researchers the world over. Issues of open-access scholarship, of privacy and data protection, and how the online environment threatens to compromise freedom of speech are all pressures that we need to discuss and develop policy on.
The pandemic has forced us to master the online environment and to be at the frontier of using innovative technologies in the classroom and at home. Let us make a virtue of this as we reflect, as a community, on the sort of vibrant campus we would like to create in a post-COVID world.
2. Promoting Excellence in Our Research
Value the full range and diversity of research in Trinity.

Engage with government to set research agendas and secure the funding needed to make us research leaders.

Provide start-up and seed-corn funding for new frontier research, including for researchers who wish to re-focus their research.

Facilitate research leave.

Invest in research support services, especially post-award.
Bring together, under the Vice President for Research, all research and innovation and strengthen the role of Vice President for Research.

Invest in and support our early career researchers.

Invest in our research centres and institutes and incentivise inter- and trans-disciplinary research.

Support applied research, research outreach, and encourage innovation.
Over the past decade, Trinity has been consistently successful in securing significant funding from national, EU, and global sources. We outperform every other university in Ireland. These successes are all the more remarkable given the relative lack of resources that we have had access to, especially for basic frontier research. This is a tribute to your talent and determination.
There is, however, nothing inevitable about continued success. The challenge is how to sustain – and increase – this level of investment from exchequer sources. We must also secure increased funding from non-exchequer sources, like the Wellcome Trust in the UK, the National Institutes of Health, the Mellon Foundation and National Science Foundation in the US, and Horizon Europe.
Trinity must actively support researchers, those who work individually or as part of teams or both, in all disciplines and across all career stages. With this in mind, it is critical that we provide start-up funds for new colleagues, seed-corn funding for new research initiatives, and provide regular research leave. As Director of the Trinity Long Room Hub we ran a Research Incentive Scheme that proved particularly successful and is something that might be extended, where appropriate, to other areas.
I understand the importance of funding basic frontier research. As Chair of the Irish Research Council, I have advocated for the creation of a more balanced research ecosystem for the past five years. I oversaw the introduction of our Laureate Awards in 2017, a very important new strand of funding in the Irish system, redressing the long-standing dearth of opportunities to conduct basic research across all disciplines and career stages. We are already seeing that Laureate awardees are going on to secure European Research Council (ERC) awards, including Ireland's first ERC synergy award, based in Trinity. The embedding of the Laureates, with annual calls from 2021, will help ensure that Ireland is a leader, not a follower, and that our drawdown of funding under Horizon Europe is at least as strong as comparably sized countries.
We need better support for all aspects of the research cycle to encourage experimentation, collaboration, and allow time for research and writing. Communicating why our research matters, the impact it has, and how research informs public policy is fundamental to this. We need to create a seamless experience from research idea, to grant application, to contracting, to post-award processes and, where appropriate, to intellectual property development and technology transfer. We also need to make sure that we have the necessary office and laboratory spaces.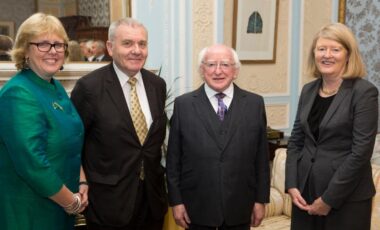 Professor Jane Ohlmeyer with Professor Jean-Pierre Bourguignon, President of the European Research Council (ERC), President Higgins and Professor Mary Daly (then President of Royal Irish Academy)
"All of this will require investment, and as Provost, I will make such investment a priority. I will also secure funding for new initiatives and for those who wish to re-focus their research."
We need to accelerate Trinity's full disciplinary engagement with societal challenges, policy, and the UN Sustainable Development Goals, the articulation of impact, and especially co-creation with multi-sectoral stakeholders. I will expand our research development and support services (especially systems and impact and post-award), so that we can effectively deal with the challenges that lie ahead and keep Trinity at the forefront in Ireland in attracting research funding.
I will also reconfigure the office of and strengthen the role of the Vice President for Research. I will create an office under the leadership of the Vice President that brings together research and innovation from across the College. I will ensure that the Vice President for Research can input into all decisions that relate to research and innovation and their connectivity to the student learning experience.
Our ability to recruit talent from around the world to carry out research in Trinity depends on the availability of adequate funding for studentships, bursaries, consumables, and fees; and creating a welcoming, supportive and stimulating academic environment.
In Trinity, we need to take seriously our responsibilities to our early career researchers, who are so critical to our endeavours yet are also very vulnerable and lack certainty about their futures. We need to remunerate our early career researchers appropriately. We must treat them with dignity and respect, mentor them, and work with them to develop their careers, grow and expand their scholarly and research activities.
Our research institutes and research centres are central elements of the College research ecosystem. They reflect the appetite for inter- and trans-disciplinary research.
They must be maintained through appropriate levels of support, by incentivising inter- and trans-disciplinary research, and by breaking down the very real barriers that currently impede our ability to work effectively across disciplines. Working across disciplines opens up new opportunities and provides intellectual excitement. It can shape how we approach our own research, while allowing us to tackle more ambitious research questions. I have experienced this first-hand, as Chair of the Irish Research Council, Director of the Trinity Long Room Hub, and PI on two major EU grants that focus on inter-and trans-disciplinary research.
Trinity has the grounding and the talent to become a world-leader in this field. Support for inter and trans-disciplinarity will be another hallmark of my Provostship. We need to provide training and career pathways for knowledge intermediaries/integration experts/facilitators who can bridge disciplinary and sectoral boundaries and/or bring diverse researchers from diverse faculties and diverse sectors together to experiment with framing approaches to societal challenges, scoping out opportunities amongst themselves or with others to develop proposals for Horizon Europe and national funding down the line.
Just as we value disciplinary diversity, we need to value research diversity. As Provost, I will provide support for those who wish to engage in the increasing number of opportunities for applied research. This will allow us to exploit the many opportunities for engagement with enterprise that can add to the student and staff experience. I will also encourage a spirit of innovation across all career stages, especially, in young entrepreneurs across all disciplines. By doing this Trinity will move away from a narrow definition of what has come to mean 'technology transfer' toward the wider world of 'knowledge transfer'.
3. Realigning Our Support Services and Systems
Set up a strategic review of all support services.

Put in place the systems needed to deliver the services that underpin research and education.
Create a centralised institutional data office.

Improve communications forums for consulting with and drawing on the expertise of professional and support staff.
Our University can only function effectively if the support services, systems, and processes are aligned behind the core mission and activities of the College. Amongst our professional and support colleagues there is great goodwill and talent, but much remains to be done to overcome the intense fragmentation in some areas. We need to co-ordinate efforts and focus minds on how best to serve the academic mission of the College, of all its staff, and its students.
The interface between academic and professional staff can be fraught. Academics feel like they are drowning in bureaucracy, inundated with endless and repeated requests for information. For their part, those who work in the support services are frustrated at the lack of appreciation of externally imposed compliance needs. Addressing these issues and finding lasting solutions and fit-for-purpose systems that work for Trinity will be the priority for my first year in office.
As is the case with teaching and research, we must strive for excellence in our processes and services. We must go beyond a narrow fixation on compliance and regulation. We need to apply the creative thinking we use in our teaching and research elsewhere in College to solve our problems. We should not hesitate to draw on the expertise of our colleagues and reduce our current dependence on external consultants.
We need to fully appreciate the very real differences between multi-departmental and mono-departmental Schools and support them accordingly, especially the Heads and Directors whose bureaucratic burdens would be better served by professional administrators.
Many of our support services are stretched and under-resourced. Sometimes support service agendas are perceived to be out of sync with the needs of students and academic staff. While we will continue to face challenges ahead, I believe that significant gains can be made through streamlining current structures, making objectives clearer and aligning these closely with the needs of staff and students.
We need our systems to achieve greater efficiencies and allow for the better exchange and management of information for decision-making, forward planning and the removal of duplication. It is crucial that we see the full delivery of what has been promised for the last decade and, more crucial still, we see the cost-savings from the deployment of these systems. I will establish an institutional data and analysis office to support University-wide strategic, academic and administrative decision making, assessment activities and reporting.
As Provost, I will set up a strategic review of all support services. We need to establish how we can improve student and staff supports as well as systems and functions. I will ensure that this review takes place over a short period of time and that past reviews of relevance feed into this process.
I understand the challenges that changes will bring. Progress in this area can only be achieved with mutual respect, an understanding of the work people do, and a team spirit that unites us in working for the common goals of the University. I will open up the kinds of communication channels that will ensure we achieve this clarity of endeavour. Where things are working well, we will build on them, and where not, we will redesign them while ensuring that there are no unintended consequences in other areas.
"Improving the working relationships between the academic and professional staff and providing clear focus and leadership will be the priority for the Provost and the new Chief Operating Officer.
4. Securing the Financial Foundations
Lobby for increased funding for education and research from the State.

Work closely with our Chief Financial Officer to review current spending and identify where we might secure ongoing cost savings (procurement of particular concern).

Continue to work on increasing commercial revenues without compromising our mission as a centre of research and education.

Launch our second philanthropic campaign.
Support the targets and goals of our ongoing Global Relations Strategy without compromising on quality or experience.

Invest strategically in underlying support infrastructure for research in Trinity so we can maximise our success in securing competitive research.

Build a University Endowment.

Communicate to government and civil society why research and education matter and the imperative of supporting them.
People are the heart and soul of Trinity, but finance is the sinew. Our future success depends on our ability to manage the resources we have and our ability to create new income streams from non-exchequer sources. Many of the promises I have made have financial implications. During the lifetime of my Provostship we will need to significantly increase income from exchequer and non-exchequer sources to achieve our goals and to deliver academic excellence in teaching and research.
The reality of the financial situation is stark. In 2007, Trinity derived 80% of our funding from the Exchequer; this has been cut to 40% today. COVID has exacerbated matters and especially our ability to generate commercial income. Moreover, there is increased competition for funding as five new technological universities are created and the Royal College of Surgeons in Ireland is awarded university status.
Trinity's income was €396.7 million to 30 September 2019, up by 4.6% from €379.2 million for the previous year to 30 September 2018. This increase is a positive. But as Ireland's leading university we should be performing much better in terms of annual growth in revenue.
While the Higher Education Authority State grant is comparable to that of other Irish universities, the funding of peer institutions of similar size and stature abroad may provide a more appropriate benchmark. For example, Denmark, which has 8 universities and a similar size of population, spends nearly 2% of total government expenditure on Research and Development, compared to less than 1% in Ireland.
Within College, we need to look carefully at how we spend our money. We must make sure that we are getting the best possible value for it – including addressing very real concerns around procurement processes – and that we incentivise activity in a transparent way. While we should do everything possible to manage expenditure prudently on a multi-annual basis and maximise exchequer income, we need to focus on generating additional revenue.
Exchequer Funding
The current funding model cannot continue.In response, as Provost, I will endeavour to shape the national debate, working closely with the Irish Universities Association and other stakeholders. I will strive to find answers that will work flexibly and nimbly for us as a university. The increase in our endowment that I propose will undoubtedly be part of this. We need to be creative and innovative as a community to generate enduring solutions to this central problem confronting us.
Non-EU Income
Ambitious targets have been set to increase the number of non-EU students from 15% to 18.5% of total student numbers by 2025. Despite very real concerns caused by the pandemic, we hope to achieve this. Nevertheless, the quality of these incoming students cannot be compromised. Equally, the quality of their educational experience and the extent to which they are integrated into the wider Trinity student body cannot be diminished. As Provost, I will ensure that this balance is achieved.
Research Funding
We need to lobby government to increase spending to be in line with countries of equivalent size and ambition and continue to compete aggressively for exchequer research funding that arises through schemes that fund research infrastructure (like the pre-2008 version of the Programme for Research in Third Level Institutions) or those promoted by research councils (Science Foundation Ireland, the Irish Research Council, and the Health Research Board). Indeed, as Chair of the Irish Research Council (2015-21) I, working closely with other stakeholders, have worked hard to increase the overall pot for basic discovery research. There has been a 20% increase for the 2021 budget.
We must also look to the EU's Horizon Europe, where Trinity has every reason to meet with even greater success than in the past decade, and also to UK and US funders (Wellcome Trust, Arts and Humanities Research Council, Economic and Social Sciences Research Council, Mellon, and National Institutes for Health).
To achieve this, as Provost I will invest in the underlying support infrastructure for research in Trinity; explain why research matters and how it has impact, and, together with other stakeholders, advocate for additional funding for research.
Commercialisation
Over the course of the past decade, commercial activity has become an increasingly important income stream. However the pandemic means that ambitious targets may not be achieved, at least in the short-term until tourism recovers. We also need to consider developing other opportunities, especially around technology-enabled activities, lifelong learning, and micro-crediting.
As Provost, I will strive to be innovative and creative about how we generate income. I will not forget, however, that we are first and foremost a university and not primarily a tourist attraction or a commercial enterprise.
Philanthropy
In May 2019 we launched 'Inspiring Generations', Ireland's first philanthropic campaign, with an ambition to raise €400 million by 2021. As Provost, I will build on these foundations and launch our next philanthropic campaign drive with even more ambitious targets. By 2031 our annual philanthropic income from Trinity alumni and friends will see an increase of 25% year on year and the benefits of philanthropy will be tangible across the University.
I will also build a University Endowment so that future leaders of Trinity can choose to support 'high risk, high gain' ideas; can choose to invest in an area in which the payoff cannot immediately be demonstrated; can choose to recruit a top researcher or a brilliant but financially-challenged student.
Our alumni are a particularly important group of potential benefactors and are proud of their association with the College. Trinity creates a long-lasting sense of belonging that we should acknowledge and nurture even further.
Of course, our relationship with our alumni begins during their student days and will often be determined by the quality of their 'Trinity experience'. If their experience at Trinity is positive, they, as alumni, become our best ambassadors and amplify our reputation. We can deliver exceptional educational experiences. The challenge is keeping in touch with students after graduation and inspiring them to invest in their university. As Provost, I will build these relationships.
I have proven experience in fund-raising. I have developed relationships with many of Trinity's most important donors and friends over the past two decades. As the founding Vice President for Global Relations, for example, I met large cohorts of our alumni around the world and built up extensive national, European, and global networks. I am ideally placed to identify and attract support for Trinity.
"Our ability to raise millions from philanthropic and other non-exchequer sources over the course of the next ten years will prove crucial in achieving our ambitions.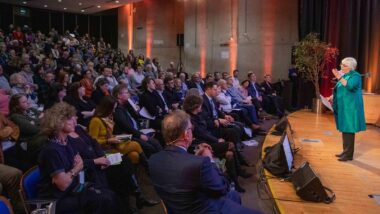 Professor Jane Ohlmeyer addressing a full house in the Edmund Burke Lecture Theatre in Trinity College Dublin in early 2020
5. Prioritising Climate Action, Biodiversity and Sustainability
Accelerate our commitment to and investment in climate action and biodiversity.

Lobby and advocate for change, promoting evidence-based information to support local and global leaders.

Lobby for additional funding at national and EU levels and secure philanthropic funding to ensure that we continue to lead this conversation.

Establish a Sustainability Office and a new College Officer position.
Build the structures and incentives to inspire students and staff to re-orientate their skillset, teaching, and research.

Climate-proof and future-proof our curriculum.

Establish a task force to embed sustainability into all College policies and operations.

Develop an ambitious strategy and action plan that can be measured, monitored, and incentivised.
Ireland led as the second country in the world to declare a climate and biodiversity emergency in 2019. We now need to approach this crisis with the same focus and commitment that we have the COVID pandemic.
We are at a point in time where climate action is no longer solely a concern of the intellectual or the activist, but an explosive area of innovation and social activity. Societies and governments are realising that responsible plans for economic growth must respect our planetary limitations. The UN Sustainable Development Goal 13 calls for urgent climate action. The European Union and major charitable foundations have likewise identified environment and climate action as key policy priorities and fundamental societal concerns. This is a grand global challenge to be solved. Carbon neutral and environmental technologies will be critical areas of growth over the next decade.
Trinity needs to lead conversations and influence the government at home and abroad. We have the knowledge and passion within our community to strengthen public awareness and engagement, and to develop a distinctive, recognisable, and influential Irish voice in these debates. We can inspire real change within and outside Ireland.
Our world-class researchers, institutes, and centres are already spearheading inter- and trans-disciplinary approaches to these critical global challenges. We are particularly well-positioned to continue promoting the impact of this body of research and to contribute to evidence-based information on climate research to support local and global leaders. As Provost, I will ensure we utilise this expertise while supporting our researchers in securing grants from funding initiatives such as the Horizon 2020-funded European Green Deal Call. I will continue to lobby for additional funding at the national and EU levels, and seek philanthropic investment.
The establishment of Martin Naughton E3 Learning Foundry further strengthens these firm foundations. We have the opportunity to do something that is not only ethical and imperative for future generations, but also neccessary for employment, innovation, and entrepreneurship in Ireland.
We now need to build the structures and incentives to inspire students and staff to re-orientate their skillset, teaching, or research towards this area. We must look to international best practice, including the University of British Columbia Climate Teaching Connector, Sustainability Fellowships and Climate Education Grants, for practical guidance to achieve this goal. As Provost, I will empower and mobilise our staff to climate-proof and future-proof the College curriculum across all our faculties.
I will also embed sustainability into all College policies and operations. I will establish a College-wide Task Force, with a white paper outlining proposed strategies and collectively built targets due by December 2021. This review will inform the Strategy and Action Plan designed to deliver on our ambitions. Targets will be specific and where possible measurable, and progress will be reported annually in a new Climate and Biodiversity Annual Review. The white paper will be a living document and will be updated as informed by the Annual Review. I will set up a Sustainability Office which will include a new College Officer position that will lead a mission for a 50% decrease in our carbon footprint by 2030. I know that addressing our climate obligations will require certain compromises and trade-offs, including in terms of our own global footprint as staff and students. We will have to make difficult decisions, but we will make these as a community after extensive discussion, and I trust our ability to do this successfully.
Let's transform how we communicate, connect, promote and support each other, and how we make decisions and implement policies. I hope you will join me in making College work for you, for our students and for all staff, and help our community to achieve its full potential.
Together, we will build the Trinity of tomorrow. Ní neart go cur le chéile.