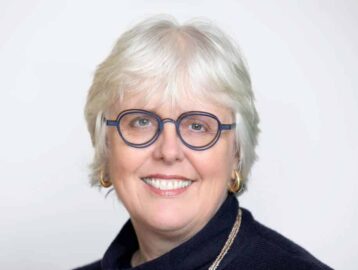 I will know that I have done my job as Provost well if – in a decade – Trinity is a serious player on the world stage. If, across Ireland, people see Trinity as an institution that brings learning, creativity, and innovation to the country. If, within Trinity, staff and students feel valued, supported, inspired and I have helped them to unlock their full potential. And, together, we can unlock the full potential of the University. In 2031 I want to leave Trinity in a better and stronger position than it is today. It is all about the future: how we secure the pipeline of excellence and how we take Trinity to its next stage.
My Promise to Trinity
Trinity's success as a university is rooted in its people and ideas. Our core strengths lie in our exceptional staff, our superb student body, and our incredible alumni. As a community we are ambitious about how we can excel, inspire, and make a difference.
I am asking for your support in this election because I believe that by working together as a community, we can shape the future and success not only of Trinity but of Ireland on the world stage, contributing in our different ways to a more inclusive, equitable, and just society for all. There is no greater place than a world-class university within which to identify, consider, and address the complex issues which face our world. Every decade brings new opportunities, and, undeniably, differing challenges. My commitment to you as Provost is that our shared history, collective understandings, and diverse and rich expertise will be nurtured and facilitated under my stewardship to impact society, to inspire the brightest minds and to support excellent research.
As Provost, I will recognise the significant challenges that we face, internally and externally. This is a time for change. With your vote, I will bring new ideas grounded in broad experience, new energy, empathetic leadership, as well as a return to putting people first and trusting and valuing our Trinity community. Together, we will unlock Trinity's full potential.
My experience to date has prepared me to serve you as Provost. I will lead by listening, by placing trust in the community, and by facilitating an ethos where people feel valued. I will act with humility, collegiality, commitment, respect, responsibility, passion, and joy.
Thank you for taking the time to read my 'living' manifesto. This is the start of my conversation about the issues, not the end, and I will be publishing policy statements during the campaign as well as developing some of the ideas contained here.
I welcome your active engagement with me over the coming weeks and ask for your vote on 10 April. Feel free to contact me by email ([email protected]).
My Promise to You
From pandemic conditions to the climate emergency, the second millennium has brought profound and rapid change to our world. Now, more than ever, Trinity College has the capacity to be a university of local and global consequence.
Never before has it been more critical that Trinity is led by a Provost who embodies the values of the University; a Provost who is bold in vision, fearless in commitment to scholarly excellence and to advancing a pluralistic and inclusive society, but equally dynamic and compassionate in enabling and inspiring colleagues and students to be the best they can be, as leaders and as people, empowering the community that propels Trinity's reputation in the world.
I am running for Provost because I have these qualities as well as the proven track record, the breadth of experience at home and abroad, and the vision and clarity of purpose to steer Trinity through the current challenges and to ensure that we build on all that is great about our University.
Trinity has always inspired me. Working together we can unlock Trinity's potential in education, research, and innovation. I humbly ask for your support to work tirelessly on your behalf to achieve this, across all sectors of the University, and to empower every member of the Trinity community.
Together, we will build the Trinity of tomorrow.